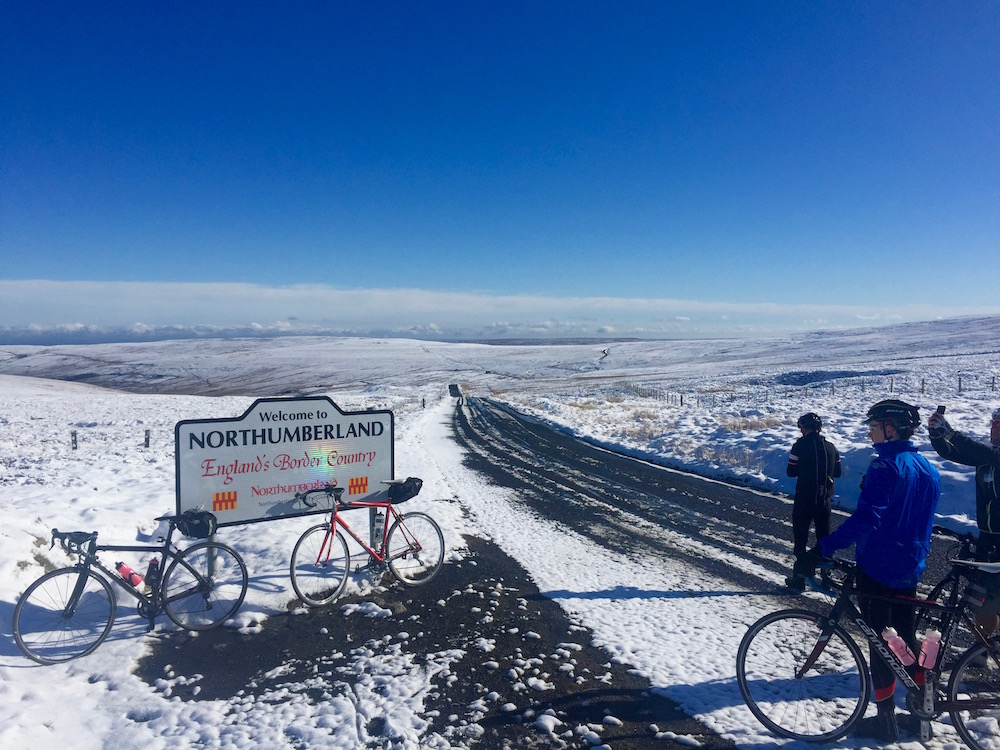 Here at Sisu we like a cycle ride, especially one that will challenge us a little bit. Recently we embarked on a trip up north to Yorkshire, from London, to ride the UK Coast 2 Coast (C2C), from Whitehaven to Sunderland. We had no idea quite how beautiful, challenging and fun the ride would be.
After brandishing the idea around, Rob, myself and 4 other friends decided to attempt the route, famed for it's climbs but equally the stunning scenery along the way.
I will now attempt to document our adventure with our itinerary, route, packing list and accommodation details to aid any other cyclists out there who are thinking about embarking on this sensational ride.
Itinerary
I always find with cycle rides and adventures in general; the more meticulous you are with the planning, the smoother it goes. There's nothing worse than the battery dying on the one Garmin in the group that actually has the route on it, everyone forgetting to pack tyre levers or even missing the train to get to your starting point in the first place. My mum would be proud of how much planning I did for this ride!
Travel & Ride Dates:
08/04/2016 - 10/04/2016
Upon arrival at our hotel in Whitehaven and having explained what we were doing to the receptionist on duty, we quickly realised we were a bit early in the "season", compared to most riders who attempt the C2C.
Nonetheless, we were lucky. We were blessed with sunshine the entire weekend (the arm-warmers-off and sun-cream-on variety too).
Travel
Trains in the UK suck! But you all knew this anyway, right?
Virgin trains will only permit 5 bikes per train. We were attempting to travel as a group of 6 to Whitehaven, but quickly established that Virgin would not allow this. The person I spoke to on the phone further explained that the Virgin train to Carlisle would take 5 bikes but the local train service from Carlisle to Whitehaven would only permit 3. So that was it, we had to travel as two independent groups from London to Whitehaven. Fortunately the trains were only an hour apart.
We each took half a day annual leave on the Friday so we could get to Whitehaven in good time and enjoy a beer (or two) before heading to bed for the night.
Tip: Book train tickets as early as possible to ensure there is space for your bikes.
Wave 1 (3 people)
Outbound:
Date: 08/04/2016
Stations: London Euston -> Carlisle -> Whitehaven
Timings: 12:30 -> 1545, 16:31 -> 17:39
Inbound:
Date: 10/04/2016
Stations: Newcastle -> London Kings Cross
Timings: 18:00 -> 21:42
Wave 2 (3 people)
Outbound:
Date: 08/04/2016
Stations: London Euston -> Carlisle -> Whitehaven
Timings: 13:30 -> 16:46, 17:37 -> 18:50
Inbound:
Date: 10/04/2016
Stations: Newcastle -> London Kings Cross
Timings: 19:05 -> 22:43
Total price for travel: £140 p/p
Accommodation
Accommodation was easy to find for the two nights we needed. Although small, Whitehaven is full of hotels and B&B's. It seems the town is well setup for cyclists attempting the C2C.
We found accommodation for the Saturday night in Nenthead on AirBnB. Again, there were plenty of choices. We could have picked any number of places to stop along the route. We aimed to put the majority of the big hills behind us on the first day (~2000m of climbing), leaving 1000m for the Sunday.
Friday 08/04 - Whitehaven
The Waverley Hotel
http://www.thewaverleyhotel.co.uk
Price: £42 p/p per night
A cosy hotel with a decent bar and some hearty pub grub. It's no London gastro pub but it provided us with plenty of fuel for the next day. The Lasagne was magnificent by all accounts - the shear amount of it had a couple of the our group members beat!
Saturday 09/04 - Nenthead (120km)
Mill Cottage Bunkhouse
https://www.airbnb.co.uk/rooms/6346069
Price: £20.50 p/p per night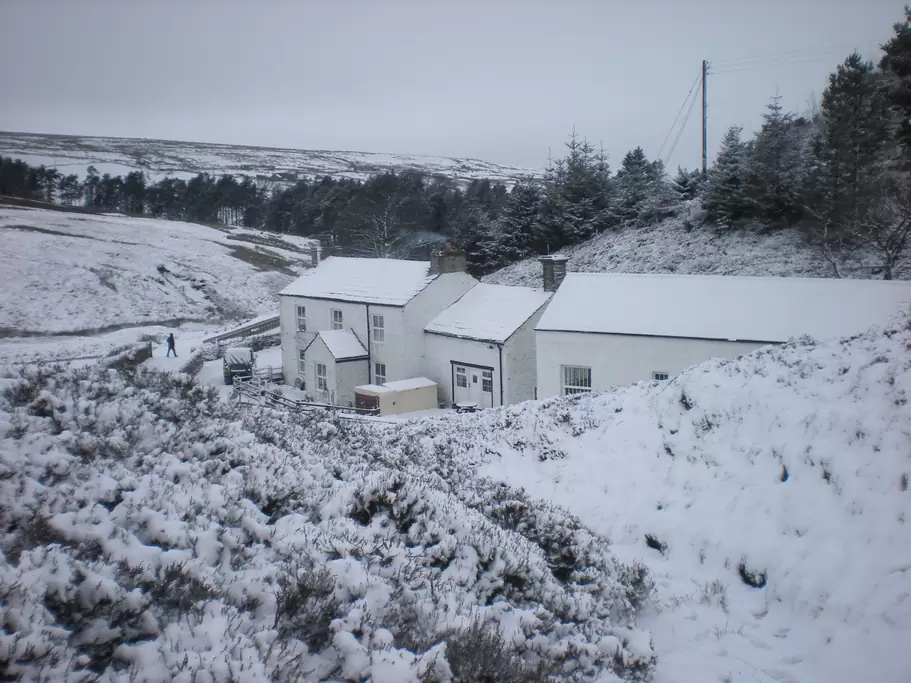 Turns out Mill Cottage was nothing short of perfect! Tired and weary after our first day, we wondered up a long stone track to find the bunkhouse. Outside was the sturdiest of bike stores, inside: hot showers, tea, snacks, fresh fruit and 6 of the coolest bunks you'll ever sleep in!
Tip: If you stay here don't leave the heating on all night. It gets seriously hot, especially with 6 of you sharing a room!
Total of trip cost per person: £202.50
Route
After a very quick Google search we found the Official C2C route on MapMyRide. Without hesitation this became our route for the ride.
In hindsight we should have double checked it against another version of the Official route, to be sure. You can find all sorts on the Internet these days. Fortunately, it was the correct route. In fact, the entire C2C is very well sign posted all the way. I don't think we cycled for more than 1-2 miles without seeing a C2C signpost. Kudos to the responsible tourist boards!
Distances
It's not uncommon to tackle this ride over 3, 4 or even 5 days. However, we were keen to push ourselves and complete the ride in just a weekend. Our two days were split as follows:
Day 1: Whitehaven -> Nenthead: 125km
Day 2: Nenthead -> Sunderland: 98km
Packing List
Given the ride was only two days we tried our upmost to pack as lightly as possible. We organised amongst ourselves who would bring what tools, so we didn't carry any unnecessary duplicates. We also agreed that we wouldn't need to pack additional shoes. I wouldn't recommend it normally, but we knew we'd be fine with just our cycling shoes for the brief time we'd be walking.
I would estimate that we carried no more than 2-3kg of additional luggage each.
Clothing (per person)
1x Jersey
1x pair of tights
Cycling shoes
Overshoes
Winter gloves
Waterproof
2x pairs of socks
1x t-shirt
1x pair of jeans
Sunglasses
Toothbrush
Travel toothpaste
Tools etc (for the group)
1x Puncture repair kit
3x tyre leavers
1x multi tool
2x spare inner tubes per/person
3x spare chain links
1x travel battery (per person)
1x iPhone and USB cable (per person)
Food (per person)
4x Power Bars
4x energy gels
4x electrolyte drink tabs
Luggage
We each had a saddle bag to carry our kit. These were small and compact. They are a little bit of a pain if you needed access to them on a regular basis, but perfect for a minimal weekend away or a day trip.
The Ride
We awoke on Saturday and filled our boots with the breakfast the hotel had to offer. We packed, paid and left with anticipation at around 8:30am. The ride out of Whitehaven seemed slightly alien as we cruised along a path for the first 15km. It became apparent that this would be the terrain for 30-40% of the ride, along with the odd obstacle too…
We were blessed with sunshine the entire time we were on our bikes, throughout the weekend. So much so I got quite sunburnt, although that's not saying much. Lets just say it wasn't quite what I expected when I planned a trip to the North of England in April.
Our first stop was in Keswick around the 30 mile mark, for a quick bike repair, coffee and some cake. We were stationary for nearly 90 minutes. Luckily the repair was small but the duration of the stop was irritating.
Penrith was our next stop, for lunch, 20 miles on from Keswick. We passed the halfway mark for the day but still had a lot of climbing ahead of us. We stuffed our faces with baked potatoes and coffee from the stand in the town square. It was at this point that the proprietor of the baked potato stand provided us with the motivation that we needed. It was about 2pm and he said: "You're a little late aren't you? You've still got the hardest part of the day left!". Perfect, just what we wanted to hear.
It turns out, he wasn't wrong…
First we hit Hart Side. A long climb that must have lasted the best part of an hour and that took us up to an altitude of 580 meters. We'd been looking forward (i think) to this climb all day. It was a monotonous slog of switchbacks that delivered rewarding albeit cold views from the summit. Our first real bit of downhill riding was to follow. At this point, most of us had mentally checked out. We'd done the climb we'd all been looking forward to and were less than 10 miles from our accommodation. Forgetting to register that we had one more climb before we arrived was a low-point for a few of us!
The final climb of the day took us from an altitude of 345 meters to 594 meters in the space of 3km's. Having checked out after Hart Side, this was seriously hard and took every last bit of energy to finish. The 25% descents on the way down into Nenthead were equally as tricky on the gravel dusted roads. Rob picked up our one and only puncture of the weekend at the bottom of the hill, almost at the entrance to our accommodation.
Once checked in and washed up we spent Saturday night at The Miners Arms, 300m down the road. The pub had a great atmosphere. Having climbed 2000m of some of the biggest hills I've ridden, we tucked into as much food as possible. At this rate we thought we'd be returning home a few kilos heavier than when we left. Then again did we really need to finish every meal with a portion of crumble and custard and 4 pints of Guinness?!
On Saturday night the warm weather quickly disappeared and was quickly replaced by heavy snow, just as we left the pub. All in all I would say that Nenthead received about 2-3 inches of snow that night.
Sunday morning we tucked into the cereal and fruit provided by the hosts of the bunkhouse. This was more than sufficient given our over indulgence the night before. We packed a couple of the bananas into our jerseys for the ride too.
We were all a little anxious about setting off too early on Sunday morning. Having come off my bike on the ice before, I knew what the roads could be like. We waited for an extra hour before leaving to be sure. I'm glad we did! The roads were fine. And with a blanket of snow, the scenery was among the most beautiful I've EVER seen!
Once we got going and after we'd got the big climb of the day out the way, we realised we were covering ground far quicker than we had on the Saturday. With this in mind we continued until we were about 25 miles outside of Sunderland. We stumbled across a cosy pub at an opening along the C2C path - near Stanley I believe. Anyway, the amazing staff there were sympathetic to our hunger and provided us with roast dinner baps to fill our empty guts! Sopping in gravy of course. This was the North after all. Oh, and naturally we had crumble and custard to finish off the proceedings.
It was down hill from here on; the home-straight! We chain ganged for about 20 miles along the C2C path. The surface better in some places than others. The final 5 miles into Sunderland slowed again as we hit what can only be described as perfect Cyclocross terrain. Thankfully none of us picked up a puncture. My brakes did start to fail with the build up of mud though. Oops.
It was match day too: Sunderland Vs Leicester City. We rolled in past The Stadium of Light just as the final whistle went. Fighting the football crowds we made it to the beach and along the pier to the lighthouse on the coast.
A fine ride, a fine, fine ride!
The End